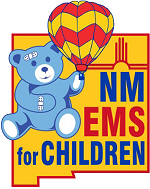 NM EMSC Pediatric Emergency Care Coodinator (PECC) Collaborative Hospital Recognition Program- FOR TESTING PURPOSES ONLY
The New Mexico Child Ready Initiative is a multi-faceted program that is reaching out torural and tribal communities to help them become more aware of their abilities to treat the emergently ill or injured child
What is the NM Child Ready Facility Recognition Program?
A program that aims to improve pediatric readiness of all EDs in NM through the development of a community of practice involving pediatric champions from NM EDs.
All NM EDs can achieve ANY of the above recognition categories- there is no

requirement for pediatric specialists, in-patient care or minimum volume of patients.
A process to recognize pediatric improvement efforts:
NM CHILD READY

Pediatric Engaged ED (Bronze Level)

: designated

pediatric champion + readiness survey (PRS) (any score)

NM CHILD READY

Pediatric Ready ED(Silver Level)

: engaged + PRS >70%

NM CHILD READY

Pediatric Innovator ED (Gold Level):

engaged + PRS >

80% + sharing programs with other EDs
What is the process to participate in NM CHILD READY?
1. Review NM CHILD READY requirements with leadership and determine intent to participate.
2. Complete online application + designate pediatric champion(s) + upload a signed letter of intent.
3. Concurrent announcement of recognition status at quarterly NM CHILD READY meeting- valid for two-years. EMSC to provide certificate/info for dissemination.
4. NOTE: all pediatric champions will have access to community of practice resourcesncluding educational modules, policies/procedures, quality improvement modules,and safety practices.
The New Mexico Child Ready Project is a voluntary recognition program to identify Emergency Departments in New Mexico that have met the criteria set forth to stabilize and/or manage pediatric medical emergencies.
For questions concerning the application process, please contact the NM Emergency Medical Services for Children coordinator at kschafer@salud.unm.edu
Page 1 of 9
You have selected an option that triggers this survey to end right now. To save your responses and end the survey, click the button below to do so. If you have selected the wrong option by accident and do not wish to leave the survey, you may click the other button below to continue, which will also remove the value of the option you just selected to allow you to enter it again and continue the survey.
The response has now been removed for the last question for which you selected a value. You may now enter a new response for that question and continue the survey.